While exploring the camp area, Nicole noticed a mystical portal and spent the day in new lands. On her return, she named her journey the Daily Adventure and put some notes into her travel journal:
The Daily Adventure is carried out on isolated lands of Atlantis where you can stock up on resources and treasures. The portal to the Daily Adventure is situated in the South East of the camp. It'll appear after completing the Growling Grotto.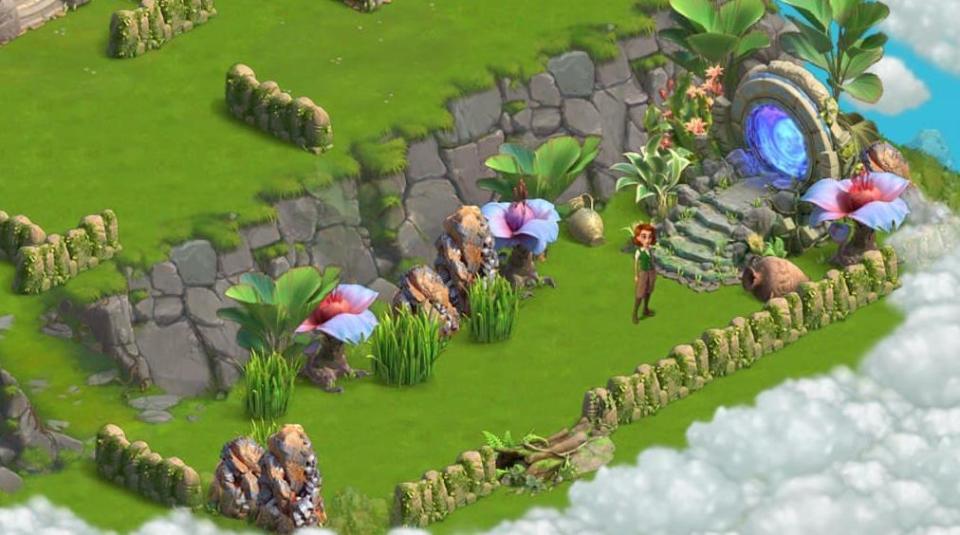 You meet the Trader upon entering the Daily Adventure. He offers various goods for a special currency: Opals. They can be found in the chests on a Daily Island. Collected Opals can be spent on new daily islands at any time in the future.
The Beehive near the Trader is a great source of useful bonuses. Buy some Nectar from the Trader and bring it to the bees by opening the Beehive and tapping the Start button. Your reward will be randomly chosen from the items in the honeycombs.
The island is split into sections which can be reached by opening the Stone Gates. Tap the gates to see the required resources. The more gates you open, the more resources and treasure chests you can find.
The Daily Island is rich in unique minerals (Mi'thril Ore, Silver, Gold, etc.) which can't be found on any other locations. To find the needed resource, open the resource menu in the lower left corner and tap the question mark near the item. The hint will direct you to the mineral deposit. Cut out all resources on the island and get awesome gifts!
You'll encounter Protective Statues guarding Atlantean treasures. Make an offering to the statue to unlock the treasure chests. Apart from coins and and useful resources, you can also get Opals and rare artifacts for collections.
Watch out! The predator can block your way. To neutralize the predator, tap it and keep pressing the button till the bar is full. The predator will fall asleep and you can get some extra bonuses by tapping it one more time.
The portal leading to a new Daily Adventure is located somewhere at the end of the island. Once you find it, you can travel to a new Daily Island at any time. If you decide to do so, be sure to collect all the bonuses and resources on your current island as it'll close forever.